Vegan Waffles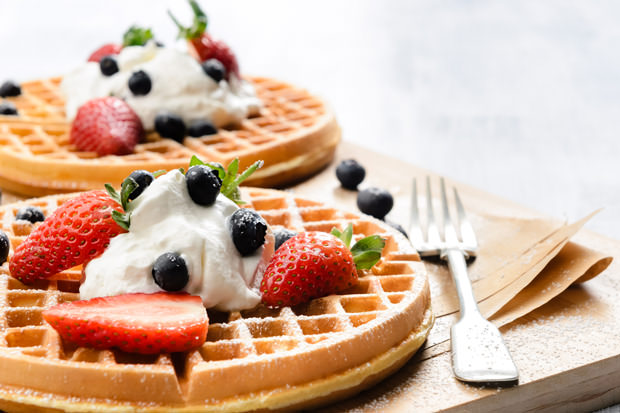 These yummy vegan waffles are sure to suit your morning needs for something chewy and delicious. They could easily appeal to pretty much anyone, even people who don't share your vegan habits.
Bon appétit!
Ingredients:
6 tablespoons water
1 cup rolled oats
2 tablespoons flax seed meal
2 tablespoons canola oil
4 teaspoons baking powder
1 ¾ cup soy milk
½  cup flour
½ cup whole wheat flour
1 teaspoon vanilla extract
1 tablespoon agave nectar
½ teaspoon salt
Preparation:
Preheat your waffle iron in accordance with the instructions.
Mix water and flax seed meal together in a bowl.
Mix the oats in a blender into a flour-like consistency. Add soy milk, both flours, canola oil, baking powder, flax seed mixture, vanilla extract, agave nectar, and salt to the oats; mix until the batter is just right.
Pour ½ cup batter into the waffle iron. Cook the waffles until golden and crisp, which should take around 5 minutes.
Repeat with remaining batter.
From Around The Web
Popular on Diet.st