Meatless Wednesday: Vegetarian Cheesy Pull Apart Bread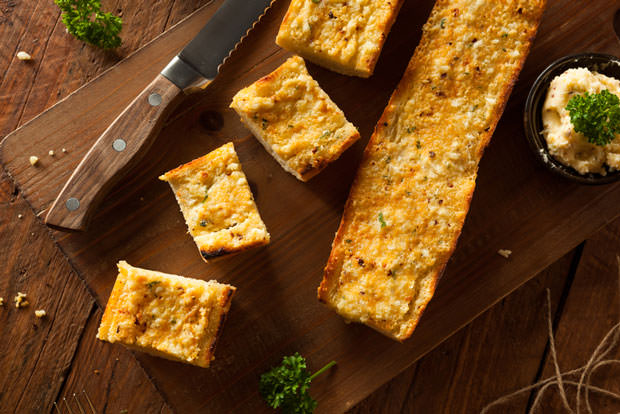 Need something quick, easy and light to prepare for your friends? This right here is the perfect recipe for you! It is very simple to make, it does not take a long time, and all your guest will most definitely enjoy it!
Bon Appetite!
Ingredients:
A loaf of bread
Cheese (whichever you like, Mozzarella works well)
Parsley
Preparation:
Take a sharp knife and cut the bread lengthwise and widthwise, but make sure not to cut through the bottom crust. It needs to stay intact so the bread does not fall apart. It may be easier to use a day-old bread, as it will not get deformed so easily.
Slice the cheese, each slice should be about 5 mm thick.
Insert the slices into the cuts you just made in the bread, make sure every cut is filled.
Chop some parsley and put it on the bread.
Wrap it in foil and bake on 180°C.
After 15 mins, unwrap the bread from the foil, and let it bake for another 10 mins.
Voila! You have made your own cheesy pull apart bread! You can use any cheese you like, but it should be able to melt. Also, you can replace parsley with green onions, and add some seeds as well, if that is more to your taste. Anything works here, be creative!

From Around The Web
Popular on Diet.st