Vegetarian Low-Cal Quinoa Tabbouleh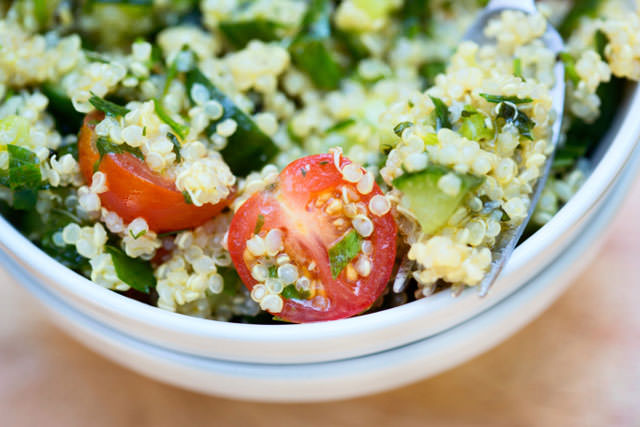 This fantastic 284-cal salad is fool of health nutrients, and can make almost any feast fun and delicious. It can be served as a side dish or as a main dish lunch for devoted vegetarians.
Bon Appetite!
Ingredients
100g dried quinoa
75g parsley, roughly chopped
300g tomatoes, cut into 1cm dice or slices
100g cucumber, cut into small dice or slices
For the dressing
1 tbsp olive oil
2 tbsp balsamic vinegar
juice and zest ½ lemon
drop of vanilla extract
1 tsp rice syrup or agave
pinch of Himalayan pink salt
½ garlic clove, crushed
50g salad leaves, to serve
Preparation
Cook the quinoa then set aside to cool.
Make the dressing by adding the olive oil, vinegar, lemon juice, vanilla extract, rice syrup, pinch of salt and garlic into a jug and whisk. Mix this into the quinoa and mix together with all the other ingredients. Serve on a bed of salad leaves for best effect.
From Around The Web
Popular on Diet.st