Vegetarian Quesadillas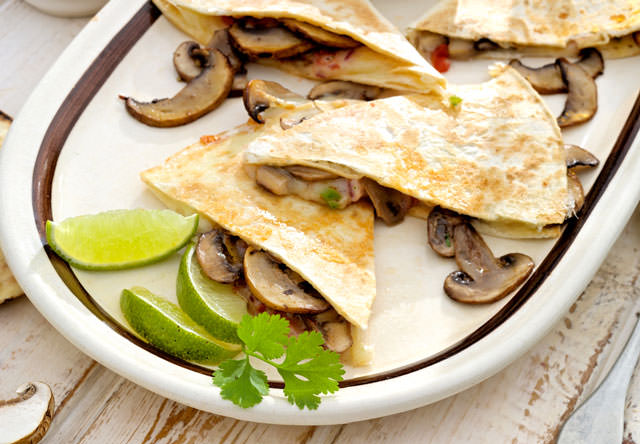 This recipe will blow your mind with its simplicity – followed by a soothing approval of your taste buds. Fresh and healthy, serve them while hot with your favourite sour cream and guacamole.
Bon Appétit!
Ingredients:
½ cup chopped zucchini
½ cup chopped red bell pepper
½ cup chopped red onion
½ cup chopped mushrooms
½ cup chopped yellow squash
Cooking spray
6 whole wheat tortillas
1 tablespoon olive oil
1 ¼ cups shredded Cheddar cheese
Preparation:
Take a large nonstick pan, heat your stove to medium-high and then just put red pepper, zucchini, yellow squash, onion and mushrooms in it. Pour the olive oil and cook for about 7 minutes. Remove the vegetables from the pan and set them aside.
Coat that same pan with cooking spray and put one tortilla in. Sprinkle a quarter of cheese evenly over the tortilla and layer three-quarters of the vegetable mixture over the cheese. Put another 1/8 of cheese on the vegetables and top with another tortilla. Cook until equally golden on both sides, for about three minutes per side. Remove the quesadilla from the pan and repeat with remaining ingredients, and serve hot once finished.
From Around The Web
Popular on Diet.st