Vegetarian Spinach Lasagna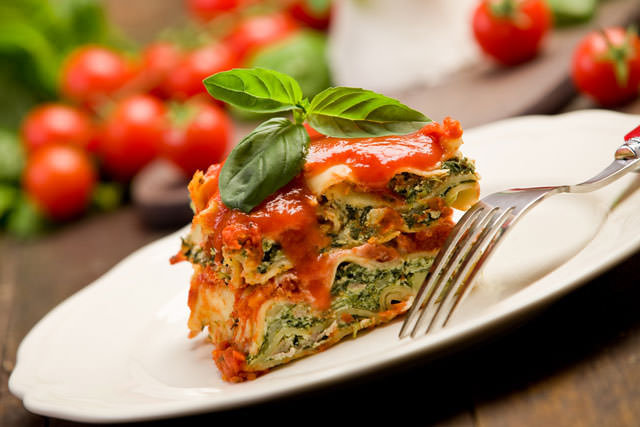 Total Time
1 hour 20 minutes
What better way to celebrate World Vegetarian Day than with a delicious and healthy variant of everybody's favorite meal? This lasagna is incredibly juicy and the artichoke-spinach mixture will blow your mind!
Bon Appétit!
Ingredients
9 lasagna noodles
1 onion
4 cloves garlic
Cooking spray
1 can vegetable broth
1 can marinated artichoke hearts, drained and chopped
1 tablespoon chopped fresh rosemary
1 package frozen chopped spinach
1 jar tomato pasta sauce
1 package crumbled herb and garlic feta
3 cups shredded mozzarella cheese
1 can tomato sauce
Preparation
Preheat your oven to 350 degrees F, and spray a 9×13 baking dish with some cooking spray, make sure to cover the entire bottom.
Get a large pot, fill it with lightly salted water, then bring it to a boil. Add the noodles and cook them for 10 minutes until they are al dente, then drain them.
Get a large skillet and spray it with the cooking spray. Set the heat on medium-high, then sauté the onion and garlic for about 3 minutes. Mix in the broth and rosemary, then bring to a boil. After that, it's time to mix in the artichoke hearts and the spinach; reduce the heat, cover and let it simmer for 5 minutes. Finally, stir in the pasta sauce.
Take ¼ of the artichoke mixture and pour it at the bottom of the prepared baking dish, then put 3 cooked noodles on top. Put the mozzarella cheese over the noodles, and repeat the same process until you run out of the artichoke mixture and cheese. Sprinkle some crumbled feta, and cover the top with some tomato sauce.
Put the lasagna into the oven and bake it covered for 40 minutes, then uncover and bake for an extra 15 minutes. Let it cool down for 10 minutes before cutting it.
From Around The Web
Popular on Diet.st